Stimmel named William C. Fownes, Jr. Amateur POY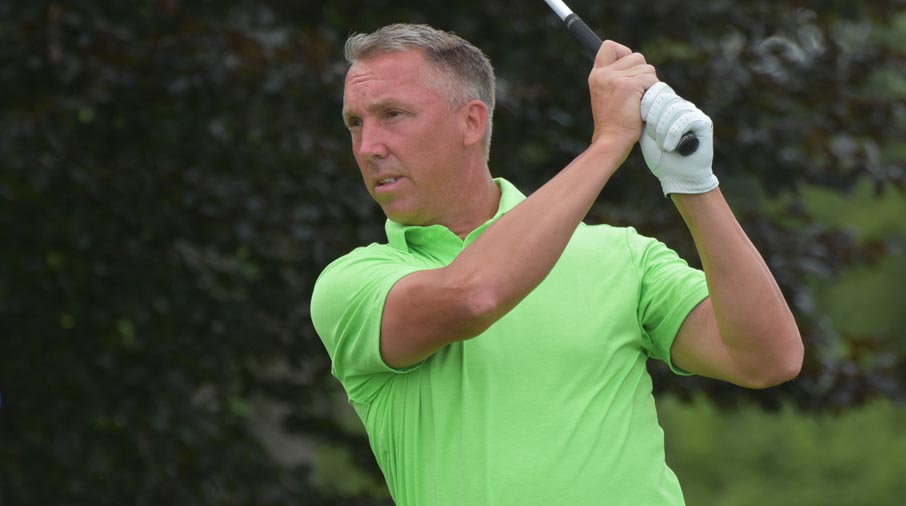 Rick Stimmel, Diamond Run Golf Club
Rick Stimmel's entire season came down to a 30-foot birdie putt.
And, like he did so often during the pandemic-riddled 2020 season, he jarred it.
Stimmel, a Diamond Run Golf Club standout, battled his way to 697.5 points and captured his first William C. Fownes, Jr. Amateur Player of the Year Award. He inched out the victory over LuLu Country Club's Michael Brown (676.5 points) thanks to the before mentioned birdie bomb – but we'll get to that later.
After COVID-19 sent shockwaves through the Keystone State's golfing plans, Stimmel stepped up to the first tee at the Country Club of York, host of the R. Jay Sigel Amateur Match-Play Championship, looking to begin his season with a bang. A sizzling 8-under 64 earned him medalist honors and the No. 1 overall seed. Although he'd fall in the Final, 1 down, to The 1912 Club's Josh Ryan, the GAP Junior Player of the Year, it was the start he required in search of Player of the Year glory.
"I really wanted to start strong. That 64 to begin, plus the medalist honors, that was an amazing start," said Stimmel, 53, of Pittsburgh, Pa. "I played really well in the Final, too, but Josh just played even better. He chipped in two times on me and then kind of swung the match. But still, it was a great week to get things going in the right direction."
Next up was a runner-up finish in the Amateur Championship at Lookaway Golf Club. Finishing at 9-under 207, it was his two eagles in the third and final round that propelled him up the leaderboard.
"I had won the State Amateur in 1996, and then was runner-up in 1997, so that was my best finish in a very long time. Those two eagles were big and kind of gave me a chance to win, but then I just kind of ran out of golf holes," said Stimmel.
After a disappointing missed cut in the Open Championship at Oakmont Country Club, Stimmel righted the ship in the Middle-Amateur Championship at Huntingdon Valley Country Club. His 2-under 68 in the second and final round there lifted him into a tie for seventh. Some crucial season-long points came along with the clutch finish.
"I'll tell you what, that second round, playing a [Huntingdon Valley] course that was rock hard, that was probably one of the best rounds I've played all year long. It really ended up helping me in the end, too, because every point ended up being really important," said Stimmel.
Rounding out the season was Stimmel's stellar T-3 performance in the Art Wall, Jr. Memorial Championship at Moselem Springs Golf Club. As if that wasn't impressive enough, the shot of Stimmel's season surfaced on – you guessed it – his last hole of the year.
Playing alongside Brown, who would go on to win the Art Wall, Stimmel found himself below a willow tree off the tee on Moselem's par-4 finisher. A 7-iron approach shot was crisply cut into the green, landing safely, 30 feet from the cup.
"Michael was probably two feet outside of me. He steps up and makes it. Then I step up to mine and make it. I had no idea at the time, but that putt meant everything," recalled Stimmel. "Michael came up to me, congratulates me and says 'That just sealed the deal for you.' It all boiled down to that. My whole season came down to a single putt on the last hole. I had a lot of time to reflect on that during my five-hour car ride back [to Pittsburgh.]"
An additional 25 points were added to Stimmel's total for qualifying alongside Hannastown Golf Club's Sean Knapp for the 2020 U.S. Amateur Four-Ball Championship, which was set to be played May 23-27 at Philadelphia Cricket Club. Although that national championship was canceled due to the pandemic, the points weren't. In total, his 676.5 points earned him the prestigious title of Player of the Year.
"I've finished in third place in the standings maybe three or four different times. It's something I thought I'd win in my 30s, not my 50s," said Stimmel. "I didn't win a single Pennsylvania State title this year, but I think my season, it shows how consistent my game was all year long. That means a lot to me."
Beginning in 2000, a handful of professional golf seasons– ones which included starts in PGA TOUR events and an appearance in the 2000 U.S. Open at Pebble Beach – furthered Stimmel's playing prowess. He was reinstated as an amateur in 2012.
He's been competing at a high level ever since, including placing in the top-four of every Western Pennsylvania Golf Association event he competed in this season. Stimmel says that his performance in 2020, powered by perseverance, shows that age is still just a number.
"I'm 53 years old and going up against some of these young guys, like the college kids who hit it a mile. I still can hit the ball far enough myself," said Stimmel. "But at the end of the day, you still need to know how to get around a golf course mentally. That's where this year I made some changes. I'm usually an aggressive player, but this year, I really showed some patience, and it paid off for me."
That it did. In fact, it paid off in a plethora of birdies, eagles and a debut in the Player of the Year winner's circle.
W.C. Fownes, Jr. was the quintessential amateur golfer who led by example and whose good influence - personal and institutional - was extensive. W.C. Fownes' major golf credits include being a Pennsylvania Amateur and U.S. Amateur Champion, Walker Cup organizer, player and team captain, and USGA president.
The William C. Fownes, Jr. Amateur Player of the Year Award is given to the player that exemplifies the highest standards of excellence on the golf course in skill, sportsmanship, and etiquette in the Commonwealth of Pennsylvania.