Dominant Showings at Sunnybrook for State Am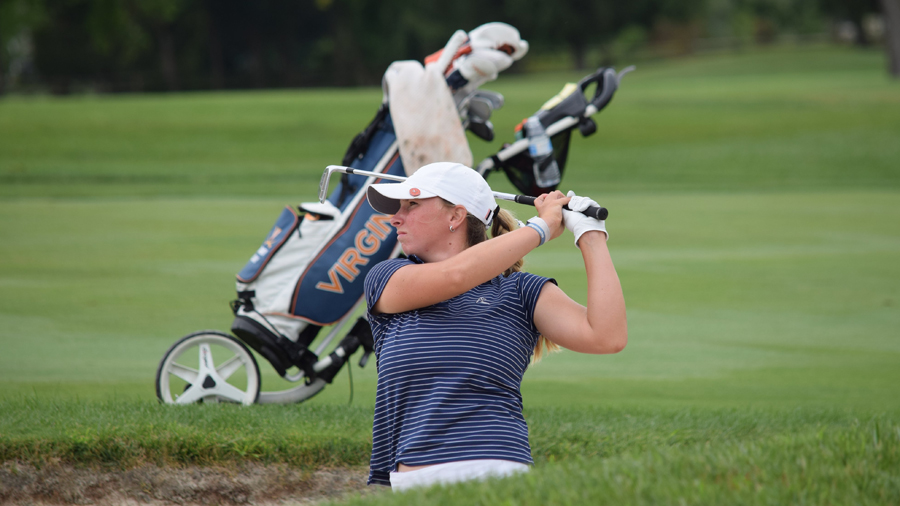 PLYMOUTH MEETING, Pa. - Three newly-minted state champs and a course record? Not a bad day at the 85th Pennsylvania Women's Amateur Championship, presented by DICK'S Sporting Goods, at Sunnybrook Golf Club. Katie Miller Gee (Mid-Amateur), Lisa McGill (Senior) and Barbara Pagana (Super-Senior) all cruised to victory in their respective divisions and Jennifer Cleary shot a blistering 67 (-5) to take a commanding lead in the Amateur division.
The Amateur division concludes on Wednesday with a final 18-hole round, but the fireworks on Tuesday came from Cleary, who broke McGill's Sunnybrook course record with an incredible 67 (-6) to open up a nine-shot lead. On Monday, she tied McGill's record with a 69. But Tuesday, she was even more efficient, cutting from four bogeys to just one as she set a new record at the historic track.
"I think I honestly hit it better yesterday," said Cleary, who just completed her freshman season at the University of Virginia. "I was really just focused on the shots I needed to hit. Today, I hit some bad shots but luckily I made some up and downs."
Cleary, who plays out of Applecross Country Club, carded four birdies plus an eagle and finished with a display of excellent putting, with a sand save for par on the 17th from about 18 feet followed up with a six-footer for birdie on No. 18. The eagle, however, was one she wasn't counting on.
"I wasn't even trying to make that," said Clearly. It was 33 feet away with about a five percent slope. I hit a really good putt and it hit the hole and I said 'Okay'."
The difference in scoring between day one and day two for Cleary?
"I think I understood the greens a little better," she said. "I also hit a lot of good wedges, giving myself some good opportunities at birdie."
Even more impressive than her first two rounds is the fact that Cleary had never stepped foot on Sunnybrook's grounds until Monday.
"I feel like the course really suits my eye," she said, in a not-so-surprising statement considering her two-round total of 136 (-10).
Trailing Cleary is 2014 champ Isabella DiLisio, who followed up Monday's 1-under par 72 with an even par 73 on Tuesday. DiLisio, of Philadelphia Cricket Club, got off to a strong start with a birdie on the opening hole and also closed with birdies on No. 14 and No. 16 to solidify her hold on second place as she attempted to put herself in position to battle Cleary on Wednesday. A Notre Dame golf alumnus, DiLisio, will be paired with Cleary in the final round as she tries to make a historic rally.
Third place is Rylie Heflin of Hartefeld National, who will soon begin her freshman season at Duke University. Heflin shot 76 (+3) on Tuesday and is at 3-over par for the championship. That makes three future, current or former Atlantic Coast Conference golfers atop the leaderboard. Wednesday's final round will see if either Heflin or DiLisio can mount a challenge to Cleary.
In the Mid-Amateur division (25 and up), Miller Gee, of Green Oaks Country Club, shot 71 (-2) to finish at even par for the championship and win by 10 strokes over Northampton Country Club's Katrin Wolfe. She led by just one stroke after Monday's opening round, but broke free from the field on Tuesday with four birdies in a five-hole stretch on the front nine. For Miller Gee, a three-time State Amateur champ who shared the Mid-Amateur title in 2020, the biggest adjustment was something new that she's had to deal with in 2021 - she is pregnant with her first child.
"I just really needed to focus on a couple of swing thoughts and my six-month pregnant thing I've got going on," said Miller Gee. "It's just a little bit different for me, balance-wise."
She seemed to have it figured out on Tuesday, as she had the aforementioned birdie stretch and then played solid golf down the stretch, going 1-under through her final 10 holes with no bogeys to cement her win.
"The course was awesome," Miller Gee said of Sunnybrook, which was hosting for the first time since 1998. "It's in really good shape. Yesterday was pretty tough with the wind but today, things mostly dried up. Just managing that was a bit of a challenge. But I knew that if I was process-oriented, the outcome would be okay."
Wolfe finished in second place at 156 (+10). Third place was a tie between Molly Gorman of Wyoming Valley Country Club and Catherine Elliott of Merion Golf Club at 12-over par. Stephenie Harris of Lookaway Golf Club (+21) came in fifth.
McGill, playing at her home club, trailed Karen Seigel by a stroke entering Tuesday's final round in the Senior division (50 and up). But by the end of the afternoon, she had posted the best round of any player in the division, shooting 75 (+2) for the day and a score of 6-over par 152 for the championship to win by seven strokes over Siegel and Suzi Spotleson.
"It's my home course so I felt very fortunate to be here," McGill said.
Playing from behind, McGill had a sound strategy at the place she knows best.
"Today I knew pars were good so that's what I was trying to do," said McGill. "I made some birdies which was great, but pars were good."
McGill proved that with her opening nine, which featured seven pars along with one birdie and one bogey as she put herself in a commanding spot on top of the leaderboard. The back nine saw a little more color on the scorecard, but three birdies in the first five holes on that side of the golf course meant that no one was going to catch her. The win was her third in the Senior division as she also won the 2018 edition at Ligonier Country Club and the 2010 championship at Whitemarsh Valley Country Club.
The Super-Senior division (65 and up) was another comeback story, as Huntsville Golf Club's Barbara Pagana trailed by two after round one but then shot an even par 73 on Tuesday, which six shots better than anyone else and enabled her to win by four over Old York Road Country Club's Ruth Averback with a 36-hole score of 155 (+9).
Pagana had a topsy-turvy opening round that saw her at 9-over par through six holes before she rallied to play the last 12 holes in 1-under par. That was a sign of how Tuesday's round was going to go, as Pagana carded four birdies against just two bogeys and a double bogey. In the final 24 holes of the championship, Pagana shot 1-under par with a total of six birdies. She also finished with a statement with a birdie on the par-4 18th to close out the victory.
With the win, Pagana repeated as champion as she shared the 2020 Super-Senior title with Liz Haines. She is the sixth player to win in back-to-back years in the Super-Senior division.
Averback shot rounds of 80-79 to finish in second place at 13-over par 159. Merion Golf Club's Haines (+18) came in third, while Bonnie George (+24) of Philmont Country Club and Jan Albert (+29) of Philadelphia Cricket Club rounded out the top five.
The Pennsylvania Golf Association would like to thank the staff and members of Sunnybrook Golf Club for the hospitality shown during the championship. Thanks as well to DICK'S Sporting Goods for sponsorship of the event.