Maude Gets Redemption at Mid-Am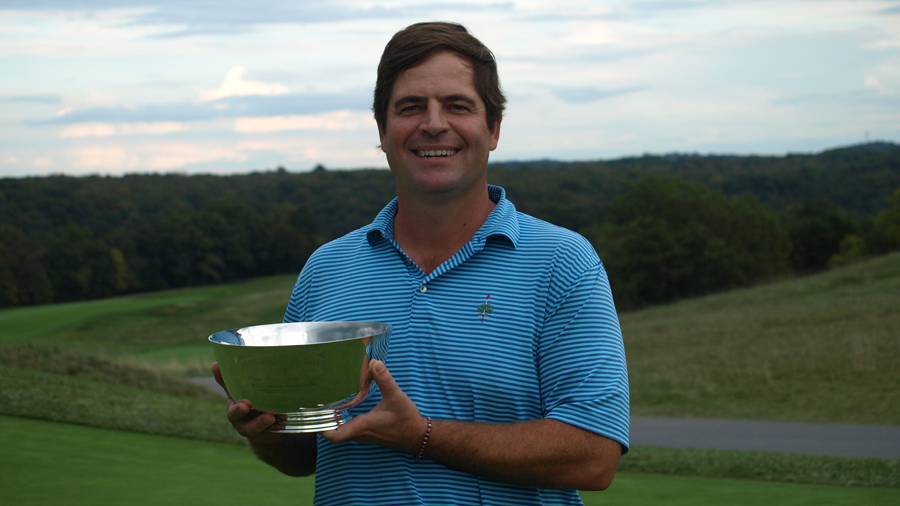 SEWICKLEY, Pa. - It was a role reversal for Tug Maude at the Pennsylvania Middle-Amateur Championship on Thursday at Allegheny Country Club. In last year's championship at Huntingdon Valley Country Club, Maude bogeyed the last three holes and lost by two strokes to Brett Young. This year, it was the opposite, as Maude rallied from a five-stroke opening round deficit to fire a scorching 63 (-7) and a 36-hole total of 7-under par 133 to win the 28th edition of the championship, which is presented by DICK'S Sporting Goods.
"It felt like a great redemption from last year.," said Maude, of Merion Golf Club. "I was obviously very upset with how I finished last year and wanted to get back in the arena. I saw the leaderboard today and realized that it would take a very good round to have a chance with all of the great players in and around me."
Maude's round on Thursday could certainly be described with better words than "very good". He had eight birdies and a single bogey, and bookended his round with three birdies on both the opening five and the closing five holes, including back-to-back birdies on No. 17 and No. 18.
"I just said to myself that I wanted to keep playing smart, but aggressive, and to give myself a lot of wedges," said Maude. "I was able to control my spin today a lot better than yesterday. I had a lot of gap wedges from about 95 yards and it seemed like they all got to about seven or eight feet."
Despite the hot start, Maude still had to keep up the pressure on players like Jimmy Ellis, Austin Lemieux and first round leader Troy Vannucci.
"Those players below me on the leaderboard are top-notch, world-class players," said Maude. "
Ellis, last year's Pennsylvania Open champ at nearby Oakmont Country Club, followed up an opening 66 with a front nine score of 33 (-2). But three bogeys in a five-hole stretch by Ellis gave Maude the opening he needed.
Maude shot 4-under par 31 on the front nine, and his back nine run began on Allegheny's 606-yard par 5 10th hole, where a good drive left him 278 yards on a downslope to the green. He hit a 3-wood that barely got off the ground but chased all the way up to the green where Maude was left with a good look at eagle. That putt didn't fall, but the birdie putt did, moving Maude to 5-under par.
Maude dropped a shot on the 14th but got it back with a birdie at 15. But heading to Allegheny's final two holes, he was at 5-under par and still trailing the leaders. He learned from the previous round that the way to play the 17th (par-4, 439 yards) was to hit up the right side, so that's what he tried.
"I was told that was a pretty good play because it slopes so hard left to right and back to front. So I hit it on the right side and hit a really good chip 8-iron from 150 yards and thought it went in," Maude said.
That chip didn't go in, but the ensuing birdie putt from four feet away did, moving Maude to 6-under par on the overcast afternoon.
"I didn't think I had much of a chance today until I birdied 17," said Maude. "I thought that if I got one more birdie, then maybe [I could win]."
On the closing hole, Maude avoided the fescue on the left and hit it to the first fairway, where he played a pitching wedge that landed just short of the hole and skipped up to about two feet. After making that putt, the waiting game began. Ellis, after making a bogey on No. 15 to drop to 6-under, couldn't find that one more birdie he needed to force a playoff. He hit a nice approach on No. 18 but it stayed on top and he couldn't convert the chance.
Lemieux also needed to make some red numbers down the stretch and couldn't find them until rolling one in on No. 18 to finish at 6-under par and tied for second with Ellis.
Vannucci followed up the opening round 65 with a 71 to finish in fourth place. Young, the defending champ, shot rounds of 69-68 to tie for fifth with a couple of Pennsylvania legends, Sean Knapp and Nathan Smith.
The Pennsylvania Golf Association would like to thank the staff and membership of Allegheny Country Club for their hospitality in hosting the championship. Thanks as well to DICK'S Sporting Goods for sponsorship of the event.