Men's 2021 Players of the Year Announced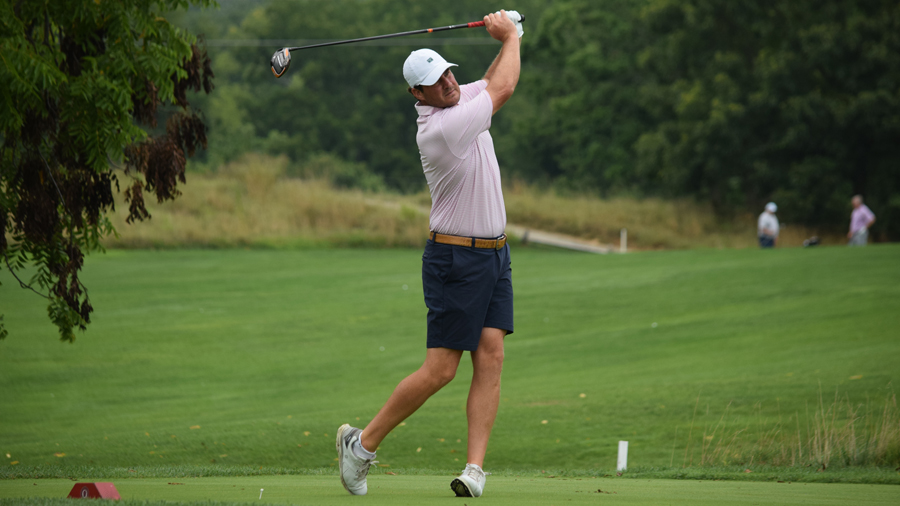 BROOMALL, Pa. - Winning a season-long honor from the Pennsylvania Golf Association is a testament to a player's consistency and excellence in some of the top amateur events in the country. For Jeff Osberg, it was strong showings in the Pennsylvania Open and the Pennsylvania Amateur. Sean Knapp continued to dominate the Senior circuit by earning points in eight events. And Duke Delcher finally won a state Player of the Year award after a lifetime of success in golf. Three different paths, all with the same ending, as the 2021 Pennsylvania Golf Association Players of the Year.
Osberg, the winner of the W.C. Fownes, Jr. Amateur Player of the Year, cemented his showing with a runner-up performance in the 105th Pennsylvania Open, which was held at the Philadelphia Cricket Club. Osberg was the low amateur and lost in a playoff to professional Alex Blickle, but the solid play that week earned him 410 points. He combined that with a tie for 10th place in the Pennsylvania Amateur at Merion Golf Club to finish with a total of 582.5 points, slightly ahead of Patrick Sheehan and Mark Goetz. For Osberg, 2021 was special as it featured a chance to play in two premiere events on the eastern side of the state.
"It had been a focus of mine heading into 2020 and 2021 to play in more Pennsylvania Golf Association events. It's difficult with family and work to be able to play all of the tournaments I wish I could," said Osberg, a PAGA Individual Member from Bryn Mawr. "It was great to have those two events close to home on courses I was familiar with."
This is Osberg's first statewide honor after winning the Golf Association of Philadelphia's Player of the Year award four times since 2015. With the tradition of golf in the Commonwealth, the recognition meant even more.
"It is really special to accomplish this in Pennsylvania with the number of great players here. The amateur game in this state has a storied history but we also have a lot of really good mini tour players and club professionals," Osberg said. "It's great to be able to compete against fields this strong and to come out on top for this award is something really special for me."
For Knapp, it was another special senior campaign as he won the Senior Player of the Year honor for the fifth time in as many tries since reaching the age of 55. While he didn't capture a PAGA individual championship, Knapp finished with points in six different statewide events as well as two USGA championships. One of those was a highlight of his season, as Knapp qualified for the U.S. Amateur championship at Oakmont Country Club. At 59 years old, Knapp was the second-oldest golfer to qualify in what was his 19th U.S. Amateur, and it was made even more special by the Western Pennsylvania venue.
"It was a goal and I wasn't sure it was attainable but fortunately enough it happened," said Knapp, of Hannastown Golf Club.
Knapp finished as runner-up in the Senior Amateur to good friend David Brown at the Country Club of York. He also finished third at the inaugural Pennsylvania Senior Open at Lehigh Country Club. His 926.6 points far outpaced Brown, who finished second in the standings.
"It was an odd season," said Knapp. "I just didn't win as much this year as I have in the past. But oddly enough, I probably played as good as I have in a long, long time. I always look at the process, not the outcome. And the process was as good as I've had in quite some time."
Delcher has amassed an outstanding career of golf accomplishments, including 27 USGA championships and even as a member of the Walker Cup team in 1997. But surprisingly for Delcher, who splits his time between Pennsylvania and South Carolina, the 2021 Super-Senior Player of the Year is his first statewide honor of that type.
"It was really fun last year," Delcher said. "I don't get back to play in events as often as I'd like to, but in the real estate business, the inventory has been so limited that last summer I could take some time to actually play in events."
Delcher finished with 600 points, just ahead of Don Erickson. And he did it in dramatic fashion, edging Erickson at Erickson's home course of Indiana Country Club in September to win the Super-Senior division of the 17th Art Wall, Jr. Memorial Championship. That gave him just enough points to win the season-long honor.
"Pennsylvania is home for me and always will be," Delcher said. "It's really cool to win the Player of the Year."
Even better, he got to earn points with good friend Alan Van Horn, as the pair combined to win the Super-Senior portion of the 29th Senior Four-Ball at Country Club of Harrisburg. Delcher also won the other PAGA event he competed in, capturing the Super-Senior division in the 62nd Senior Amateur at Country Club of York.
"It's fun playing in these events," Delcher said. "I get to see guys I played junior golf with and you can't beat that experience."