Blichar and Olexson Win Senior Four-Ball
Blichar and Olexson Win Senior Four-Ball
Vassil and White Take Super-Seniors
Sugarloaf, PA- Beautiful Valley Country Club hosted the 2023 Senior Four-Ball Championship. The Tillinghast course provided a great test for the competitors which resulted in some very exciting finishes.
Seniors- At the end of day 1, the team of Arnie Cutrell (Greensburg CC) and Bill Rosemeyer (Butler CC) held the lead with a 8-under par 63. They were closely pursued by David Blichar (Old Homestead) and Dave Olexson's (Steel Club) 64 and Tom Soares (Lehigh CC) and Bob Beck's (Lehigh CC) 65.
Birdies were harder to come by on day 2 and the three top teams traded the lead early in the round. Heading into the final 9, Cutrell and Rosemeyer had opened a 2-shot lead over Blichar and Olexson and 3-shots on Soares and Beck. Each team would show their ability to hit clutch shots down the stretch. The Soares/Beck team surged to the lead when they made 4 birdies from holes 12-15. The Cutrell/Rosemeyer team would regain a share of the lead with birdies on 15 and 17 and the team of Blichar and Olexson would make it a 3-way tie when Dave Olexson rolled in the tough birdie putt on 18.
The six players returned to the 18th hole to begin the playoff. On the first playoff hole Bill Rosemeyer and Dave Olexson would both make birdies ensuring their teams would continue on. Three more holes would fail to produce a champion as each team saw several birdie putts narrowly miss the cup. On the 5th playoff hole (#18) David Blichar would hit a wedge to 3 feet that prove to be the winning margin.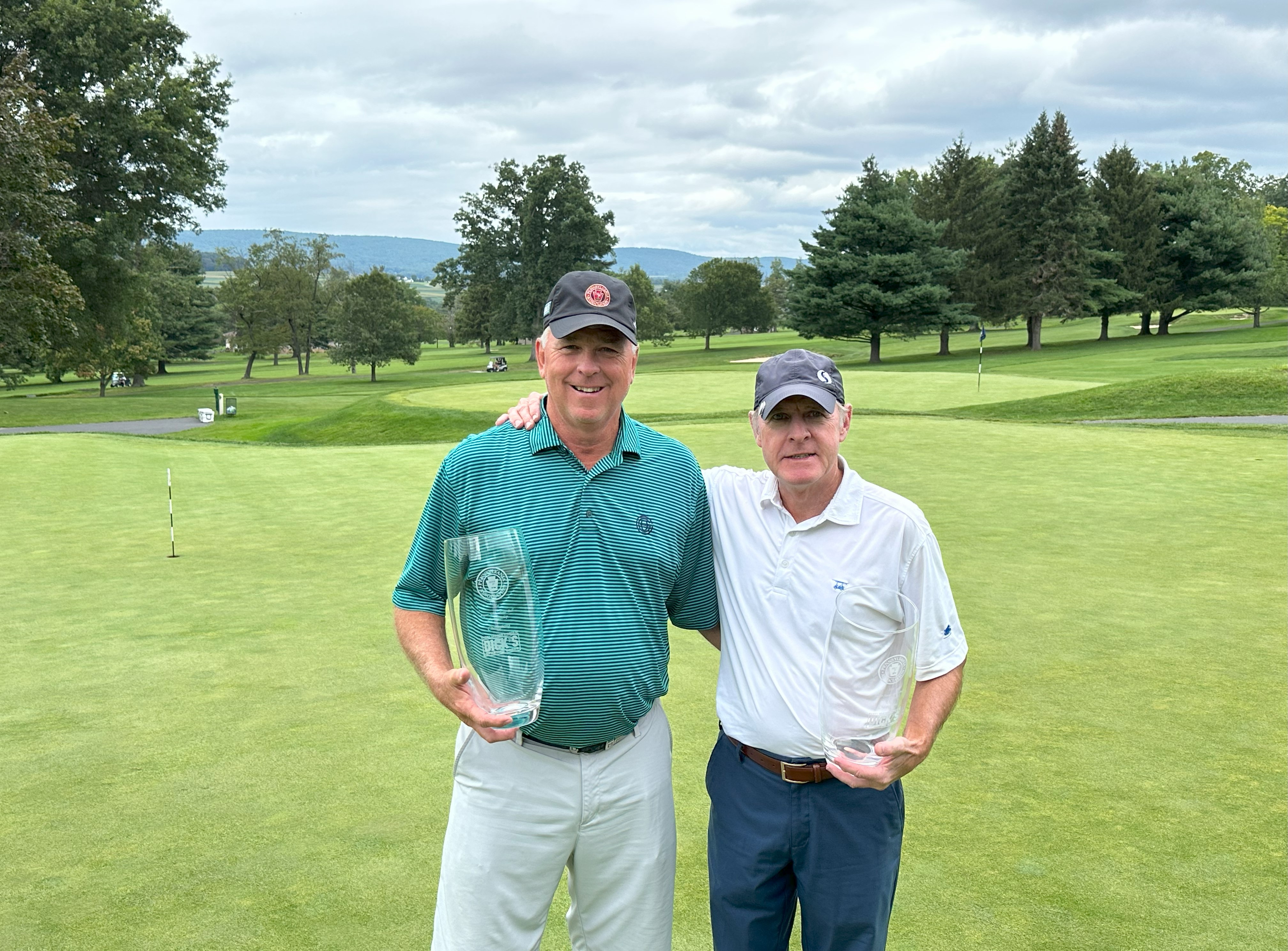 Super-Seniors- Day 1 saw the team on Scott Stoner (Rich Valley) and Scott Christie (West Shore) shoot a great 65 to holed a 3-shot lead heading into day 2.
Mike Vassil (Scranton CC) and Tom White (Buck Hill Falls) would combine for 6-birdies in the final 18-holes to earn the Super-Senior Championship with final total of 7-under par. Stoner and Christie would finish in a tie for 2nd with the team of Mike Farling and Ed Short from Carlisle Country Club at 5-under.
The Pennsylvania Golf Association would like to thank the staff and membership of Valley Country Club for the hospitality shown in hosting the event. Thanks as well to DICK'S Sporting Goods for sponsorship of the event.