Open at Oakmont: Moving day sets up Final Round thriller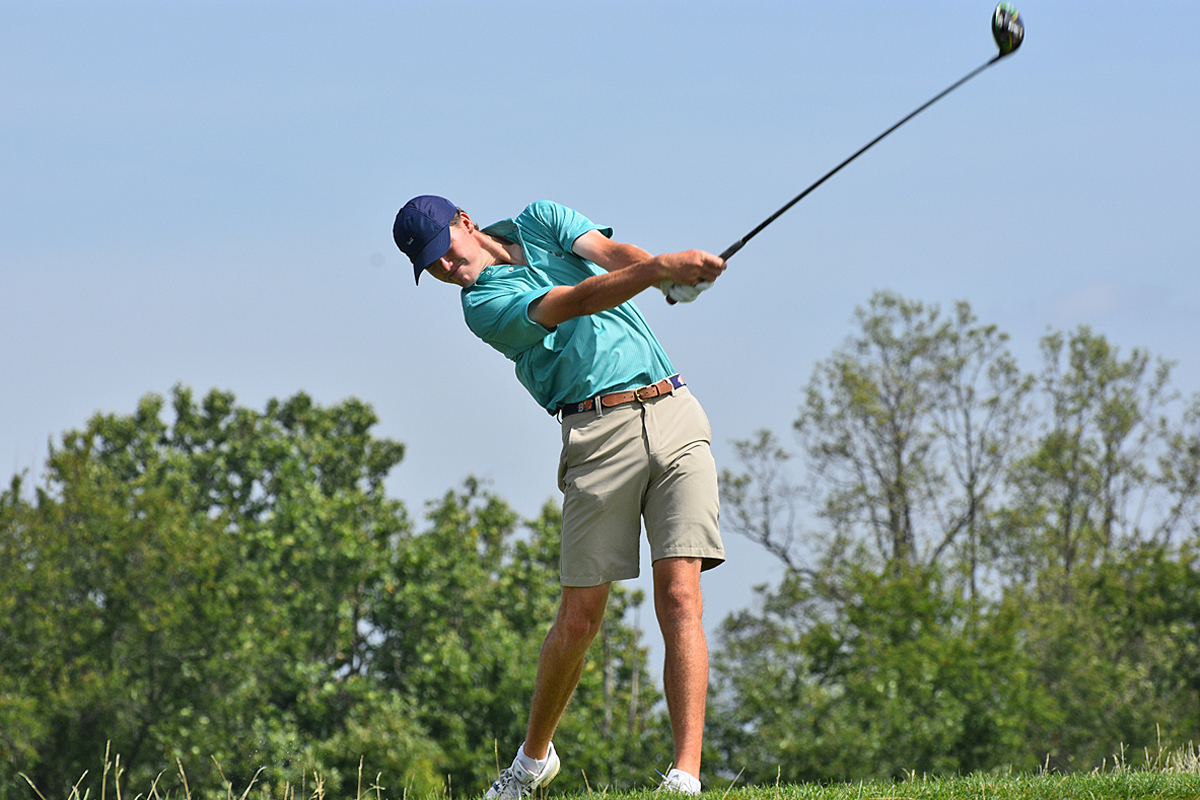 | Scorecards | Round One recap | History |
Moving day at the Pennsylvania Open Championship arrived Tuesday, and made a sweeping impact on the leaderboard in a hurry.
When Round Two teed off, Oakmont's own Tom Nettles held a one-stroke advantage over Carey Bina. Tuesday wouldn't be as kind to the home club hopeful. Nettles battled on the front nine with a 6-over 41, and ended the day with a 10-over 81 placing him 6-over overall for the championship. Just as it usually does, the Round One leader's struggles made way for others to submerge at Oakmont, playing to par 71, 6,914 yards.
With 36 holes down, the cut line stopped at 8-over par, meaning 43 players moved on to play another day.
Chris Crawford is the low professional after 36 holes of play. Crawford, a former amateur standout in the Golf Association of Philadelphia region and two-time U.S. Open competitor (2016-17), fired his second consecutive even-par 71.
Five birdies helped Crawford crawl to the top. An even-par front nine was matched by his even-par second side. An eagle attempt on Crawford's last hole, No. 9 (par 5, 477 yards), was mistakenly mishit, but a confident comebacker helped the 24-year-old mini-tour player get in with birdie on his last.
Crawford will now play for two honors – the overall title, in addition to the low professional honor (and the accompanying check). But no matter what the leaderboard says after Tuesday's action, he says he won't be thinking about the end game just yet. His round featured a number of highlights, including a 30-foot birdie bomb on No. 1 (par 4, 465 yards).
"I started 2 under through 3, and then I made a few bogeys. But that was fine, because I knew that there are a lot of bogeys out here," said Crawford. "It was a good day overall."
He'll try and finish the job off Wednesday, which has set up to be a thriller thanks to 14 players sitting within three shots of the lead. Crawford doesn't want to overthink it – he just wants to win.
"I really don't know what it's going to take to win tomorrow. The course is so difficult that I only I don't even think it's worth thinking about at this point, and I'll just try and play my own game to hopefully win," said Crawford, 26, a former Drexel University standout. "It's been a weird year, obviously, so I've been playing in a bunch of mini-tour events. But to be [low professional] this week, at this place? Yeah, that'd be amazing."
An army of amateurs sits near the top of the pack. Tied at the top are Jimmy Ellis of Venetia, Pa. and Cole Willcox, who each hold a pair of 71s next to their names this week and stand even par for the week. Sitting at 1-over par are amateurs Will Davenport (Palm City, Fla.), Mark Goetz (Greensburg, Pa.), Connor Schmidt (Venetia, Pa.), Calen Sanderson (Newtown, Pa.) and Troy Vannucci (Marlton, N.J.). Crawford is the only professional in the current top-eight.
Playing in his first championship back as an amateur, Willcox is primed to make a run at the title in his 2020 debut.
"I got my status back at the end of June. It's been awhile since I've been an amateur and I knew I wanted to play in [the Open at Oakmont]," said Willcox, who led last year's Open at Waynesborough Country Club after Round One. "There were a couple times where I had a chance to get more under par, but I'm happy with even par today."
Another storyline that surfaced, mostly in the afternoon wave, was the multitude of players citing mid-day wind as a major influence on scores. Only two players finished with under-par rounds Tuesday – Sanderson and Schmidt – both with 1-under 70s.
"It shows in the scores, there being seven or eight rounds under par yesterday. Today the course played tougher, the greens were a little firmer, and the wind picked up," said Schmidt, who won the 2019 Western Pennsylvania Golf Association Open at Oakmont. "This course kind of sets up good for my game, and I've played well in the past here."
"It was a roller coaster of a round. Things really started getting tough when the wind picked up," said Vannucci, 28. "We were lucky to get our round in in the morning when it wasn't as bad. It'll get interesting here this afternoon."
Wind or not, Oakmont will be ready to test the field during their quest for the Open hardware. The Final Round tees off Wednesday morning at 7:10 a.m. Follow along with updates on pagolf.org all week, in addition to Twitter updates at @PA_Golf.
The Pennsylvania Golf Association would like to thank Oakmont's staff and membership for the hospitality shown in hosting the event. Also, thanks to DICK'S Sporting Goods for sponsorship of the championship.