Ellis earns 104th Open crown at Oakmont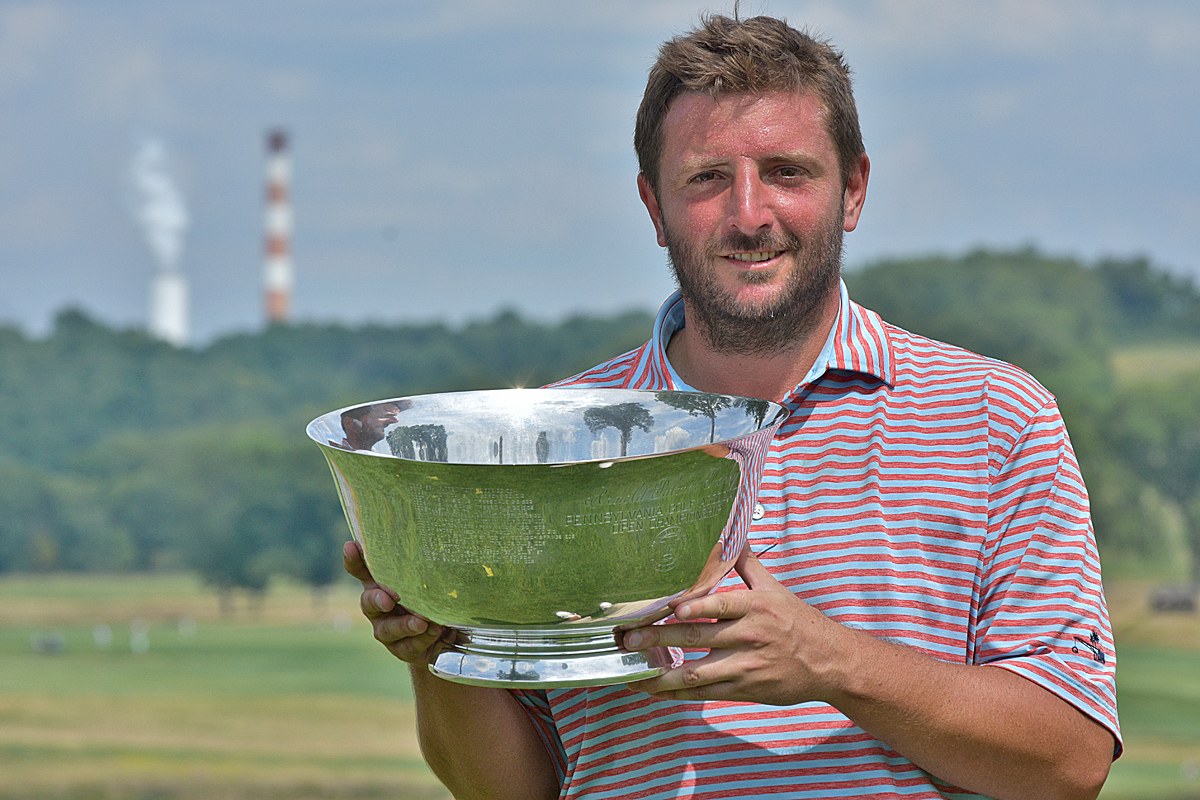 | Scorecards | Round One recap | Round Two recap | History |
Jimmy Ellis broke through in a big way. The 104th Pennsylvania Open crown is his.
The prestigious victory for Ellis came Wednesday at Oakmont Country Club, one of the nation's most prestigious venues known for producing champions.
Ellis finished off his week at Oakmont, playing to par 71, 7,017 yards, with an even-par 71 that left him level for the week. The win didn't come without some blood, sweat and tears. Ellis bettered the field -- one dominated by amateurs at the top of the leaderboard -- over 54 holes with passion and persistence.
"This place… it's just so hard. It's been a long week. But to come out of it with a win, it's unreal," said Ellis.
An even-par trio – Ellis, Chris Crawford, and Cole Willcox – began the day at the top. All three leaders dropped shots after Oakmont's opener. Ellis three putted there from 50 feet. That mistake wouldn't be erased until No. 6 (par 3, 180 yards). His 7-iron tee shot nestled up to four feet and was jarred, getting the round back on track. Before the turn, on No. 9 (par 5, 475 yards), Ellis two-putted from 30 feet to get to 1 under for the round and secured the solo lead. He wouldn't relinquish that on the second side.
The back nine was exactly what the Oakmont doctor ordered for trophy hopefuls – pars. Ellis rattled off eight straight pars to steady himself under pressure. Bunker shots on No. 16 (par 3, 220 yards) and 17 (par 4, 294 yards), which led to up-and-down par saves, may have been the difference in the championship.
"Those were huge, both of the bunker shots. On 17, I saw my tee shot go in there and I just said 'Oh boy…' but I was able to get it up and down. Who knows what would have happened otherwise," said Ellis, of Venetia, Pa.
On No. 18 (par 4, 475 yards), Ellis chose 3-iron off the tee and aimed left of the bunkers and ditch. It was a decision he thought out with help from past Oakmont champions.
"I was thinking two things. One, I could either pump a driver like Angel Cabrera down the middle, or I could play it safe to the left. I chose to go left," he said.
With an awkward 238 yards to the hole, his approach came to rest flag high in the left rough. His follow up flop shot was struck well and rolled out to 12 feet above the hole. He ran the par putt by a few feet, but then stepped up and struck the winning putt into the bottom of the cup.
"I didn't even want to think about that one. I just hit it dead straight and it fell."
Elliis finished earned low amateur honors at the 100th Pennsylvania Open held at The Club at Nevillewood. He's been close to trophies as of late, most recently in last year's Pennsylvania Middle Amateur Championship down the road at Longue View Club. He ultimately lost out in a playoff there.
"This is the biggest win of my career, absolutely. I'm just an old guy with two kids. These young guys, they are way better than me and could probably beat me every nine out of 10 times we'd play. So I don't know how this one worked out, but somehow it did," said the champion.
Low professional honors – and the $8,000 first prize – went to professional J.D. Dornes of Lancaster, Pa. Dornes, a former Penn State University player, ended with an even-par 71 round to finish 3-over for the championship, edging out Chris Crawford by a stroke.
Five birdies earned Dornes that honor.
"Early on, I just wanted to get some birdies," said Dornes. "After that, I just kind of grinded it out. I was able to get one back on 17. I hit a little driver up there, left it in the right bunker, but drew a great lie. I hit a really good bunker shot to about 8 feet and was able to make that. I felt like I played solid down the stretch."
Dornes hasn't actively been playing lately. Instead, he's taken up a ticket sales position with the Washington Wizards.
"I really stopped playing professional after the PA Open last year. I just wanted to play out here this year while I was exempt for the tournament," said Dornes. "It's been unreal all week."
The 105th Open Championship will be conducted next year at Philadelphia Cricket Club's Wissahickon course.
The Pennsylvania Golf Association would like to thank Oakmont's staff and membership for the hospitality shown in hosting the event. Also, thanks to DICK'S Sporting Goods for sponsorship of the championship.